Luxury prefab house – Genève model
Information
Luxury modular house designed in two floors with cubic and minimalist volumes, result of the new generation of modular elements. The different heights, as well as the exterior finishings of each component, set the interior distribution. With an area of about 220 m2, the Genève model house is ideal for medium and large plots.
The distribution of the rooms is organized by floors, on the ground floor of the modular house you can find the living area: a large kitchen-office where you can eat, the living room and dining room, two different parts emphasized by the minimalist staircase of this design house. This floor is completed with two bedrooms and two bathrooms.
On the first floor of this modular design house is the sleeping area, with three bedrooms and two bathrooms, being the main bedroom en suite, as well as a study. The central space acts as a core distributor, avoiding the corridors, to optimise the space to the maximum. In addition there is a laundry and cleaning room.
We are talking about a well-studied modular design house optimised by our team of architects. The combination of materials is infinite so you can set and personalize your prefabricated house to your taste.
Plans
Ground floor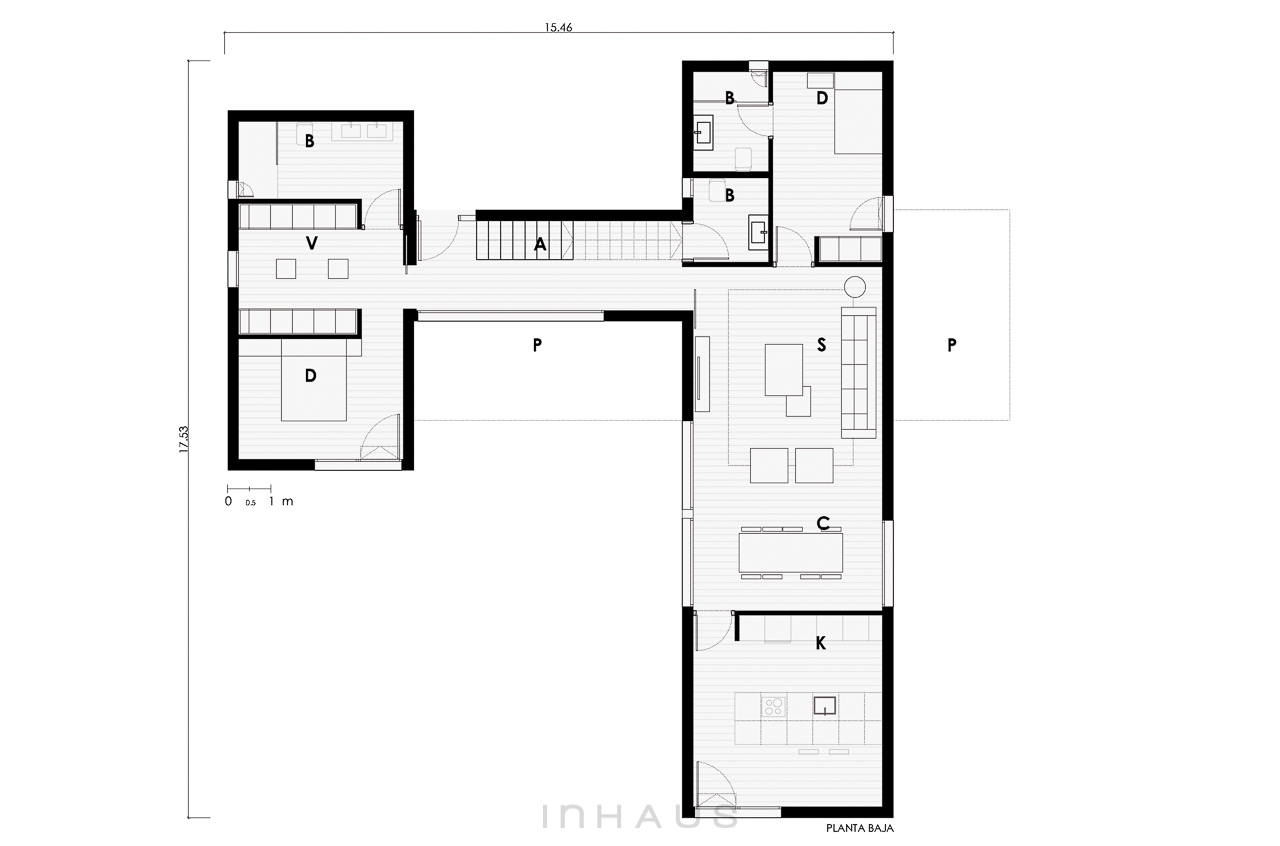 First floor
| | |
| --- | --- |
| USEFUL SURFACE (walkable) | 181,22 m2 |
| PORCHES | 27,41 m2 |
| | |
| GROUND FLOOR | |
| DWELLING | 119,67 m2 |
| entrance | 12,80 m2 |
| kitchen | 19,40 m2 |
| bathroom 01 | 4,04 m2 |
| toilet | 3,42 m2 |
| dressing room | 10,28 m2 |
| bedroom 01 | 11,11 m2 |
| master bedroom | 11,29 m2 |
| master bathroom | 7,42 m2 |
| | |
| PORCHES | 27,41 m2 |
| porch 01 | 14,27 m2 |
| porch 02 | 13,14 m2 |
| | |
| FIRST FLOOR | |
| DWELLING | 61,55 m2 |
| staircase | 4,42 m2 |
| hallway | 6,15 m2 |
| laundry room | 5,00 m2 |
| bathroom 02 | 6,83 m2 |
| bedroom 02 | 17,10 m2 |
| bedroom 03 | 10,90 m2 |
| bedroom 04 | 11,15 m2 |
| | |
| --- | --- |
| CONSTRUCTED SURFACE | 239,14 m2 |
| DWELLING | 211,73 m2 |
| PORCHES | 27,41 m2 |
| | |
| GROUND FLOOR | |
| dwelling | 137,41 m2 |
| porches | 27,41 m2 |
| | |
| FIRST FLOOR | |
| dwelling | 74,32 m2 |