Modern mountain house – Courchevel model
Information
The luxury modular Courchevel house model continues with the minimalist design which characterises all our inHAUS houses but adding a plus of personality. The volumetric complexity and the spatial richness obtained thanks to the positioning of the different modules, make the Courchevel model a unique house.
Strong volumes, with focused views, while preserving the level of privacy that each space in the house requires.
The H-shaped groundfloor allows this model to be contemplated from the inside, generating crossed views from one wing to the other and from one floor to the other. This is the spatial richness of this house.
The entrance is through the central part of the groundfloor, consisting of a large hall with porch, overlooking the pool and the main garden of the house. Once inside the house, you will find on your right the main wing with the day area: dining room, living room, kitchen, laundry room and toilet, as well as the vertical distribution core. To the left of the entrance is the master bedroom suite with dressing room and private bathroom. The staircase leads to two upstairs bedrooms, a shared bathroom, and a work area overlooking the garden.
There are large windows in all the rooms of the house, strategically placed to generate views without invading the privacy of each atmosphere.
The volume of the upper floor is perpendicular and offset to that of the groundfloor, creating a covered area.
A tribute to spatial richness and minimalist design. Specially designed to enjoy the house from inside and outside.
Plans
Ground floor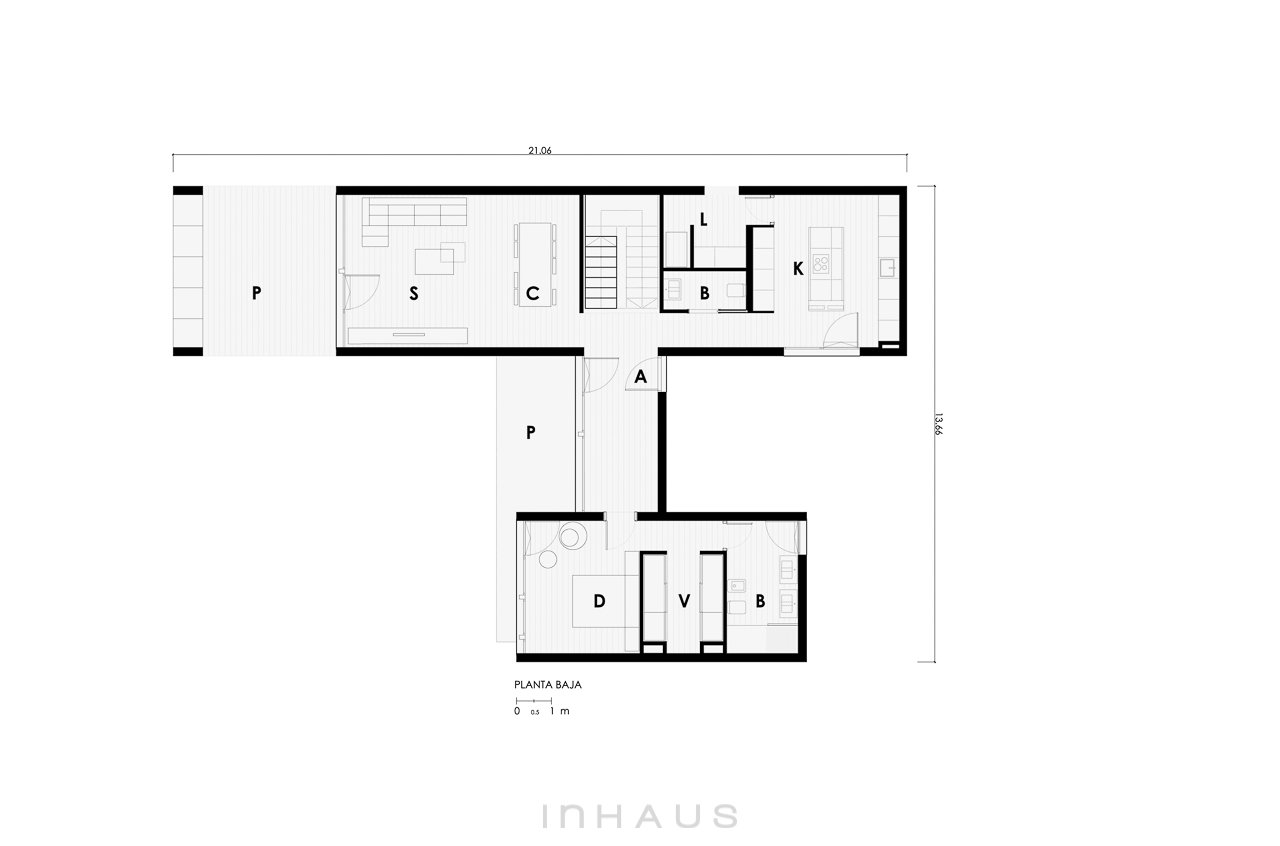 First floor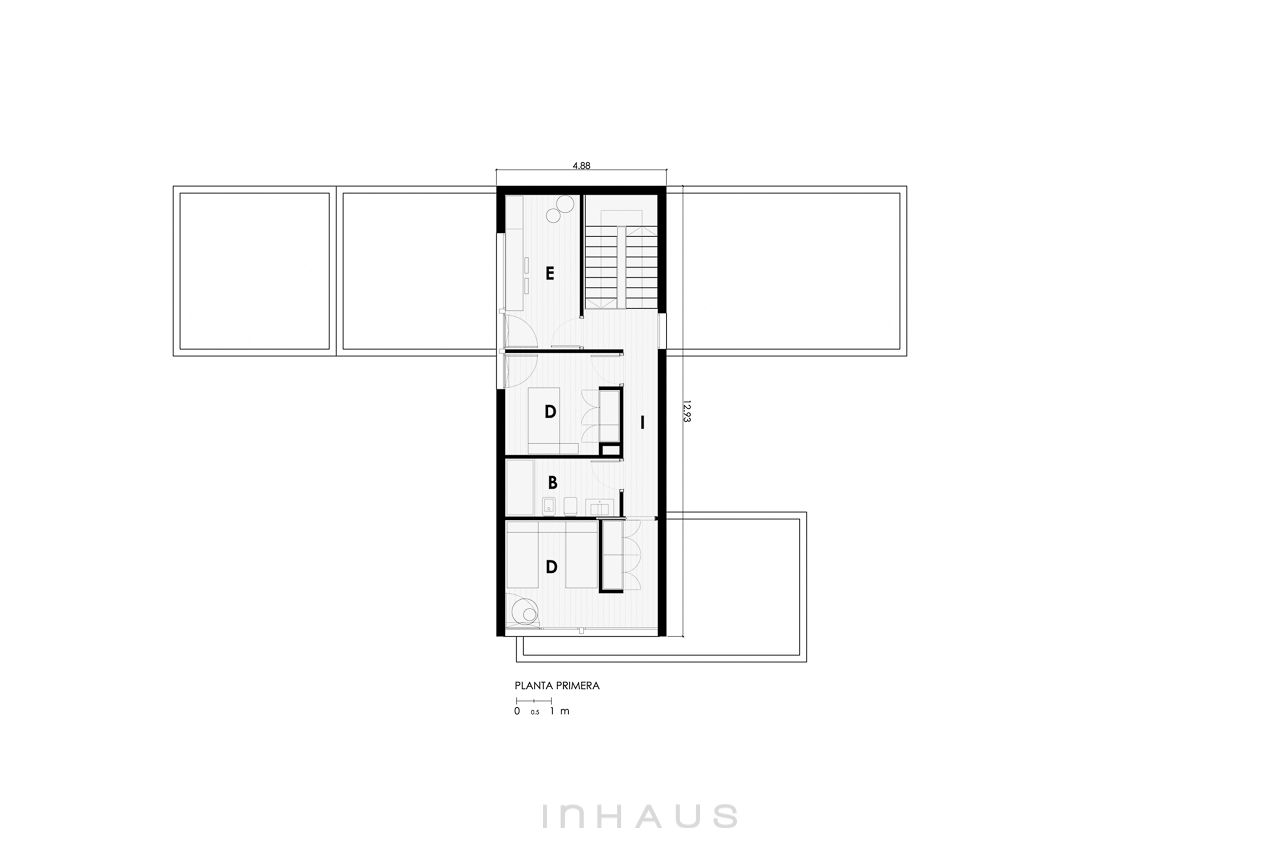 Ground floor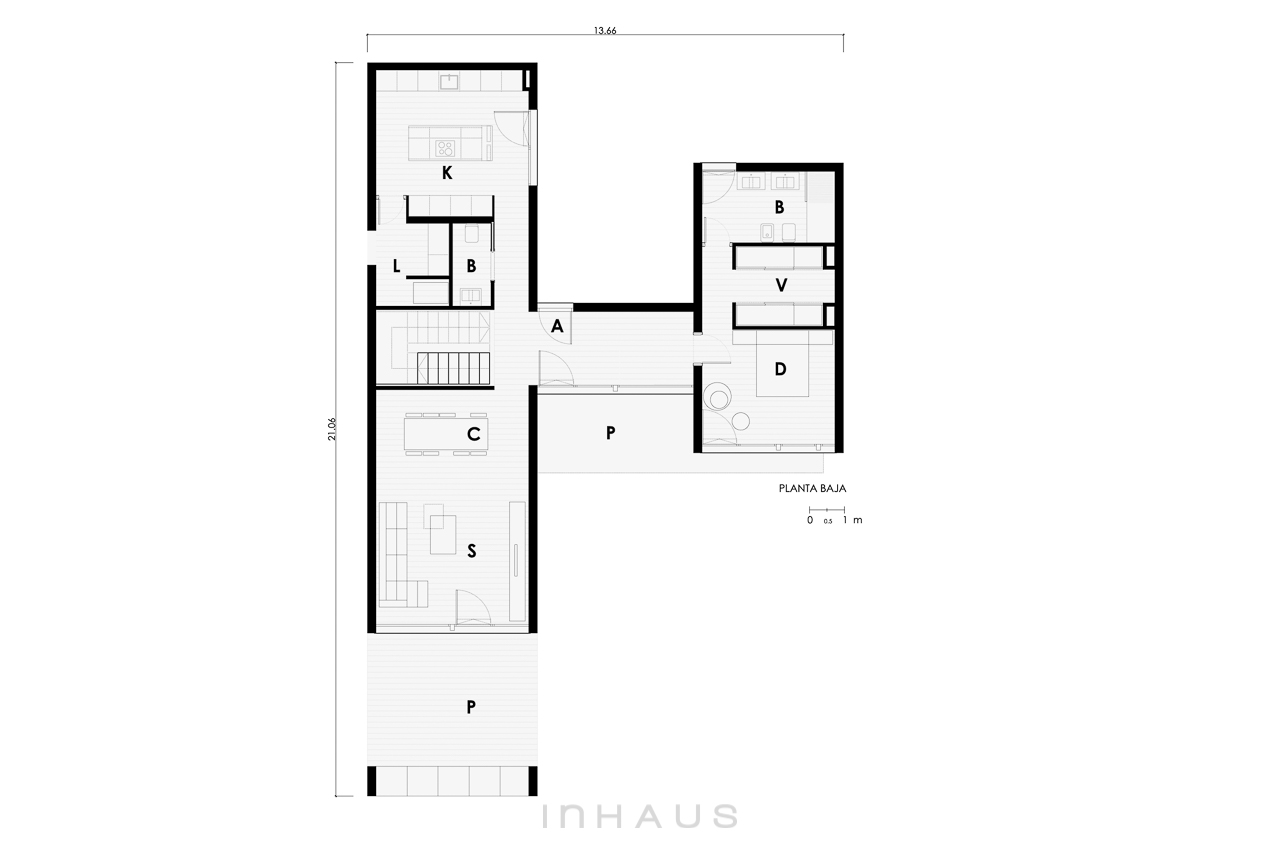 First floor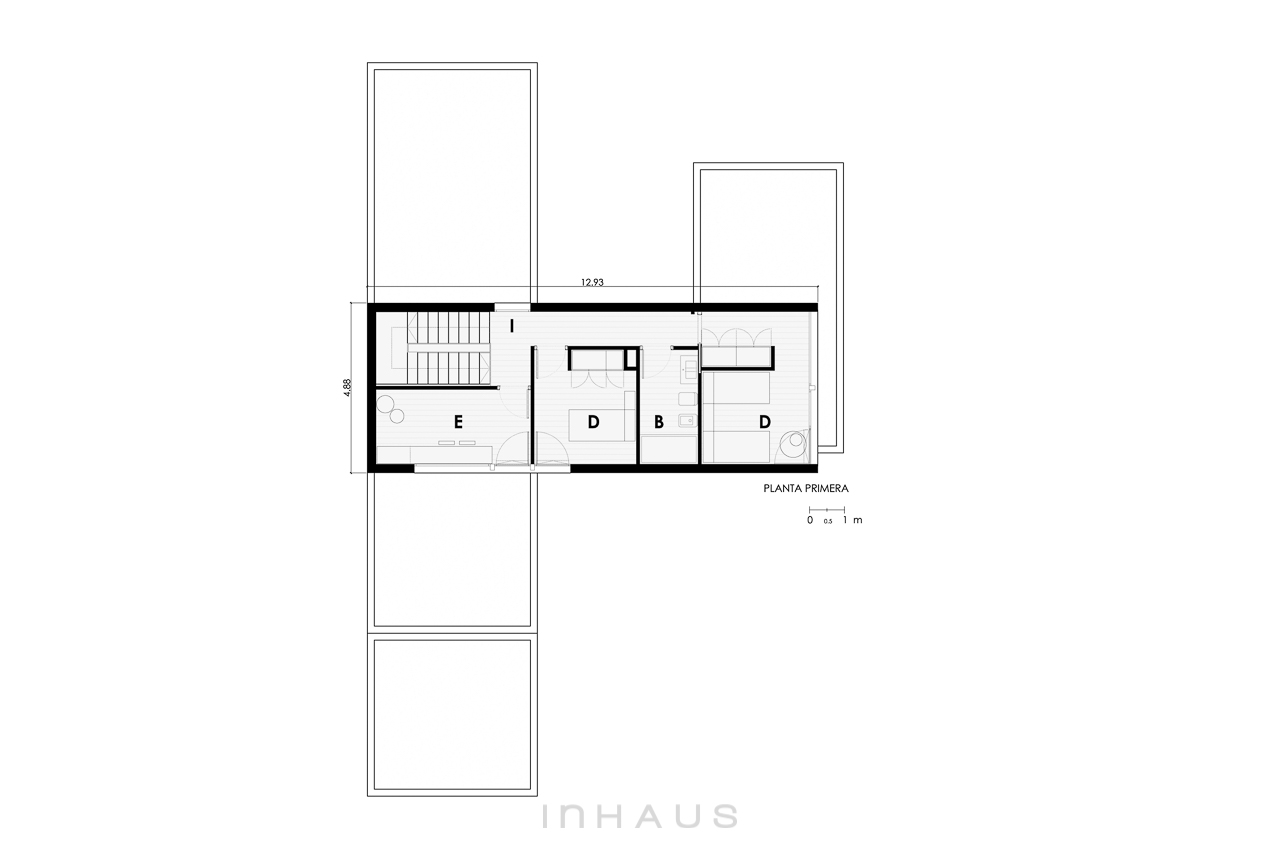 | | |
| --- | --- |
| USEFUL SURFACE (walkable) | 176,05 m2 |
| DWELLING | 143,65 m2 |
| PORCHES | 32,40 m2 |
| | |
| GROUND FLOOR | |
| DWELLING | 106,20 m2 |
| entrance | 9,50 m2 |
| staircase | 7,50 m2 |
| hallway | 5,50 m2 |
| living-dining room | 29,50 m2 |
| kitchen | 17,10 m2 |
| laundry room | 5,50 m2 |
| toilet | 2,60 m2 |
| master bedroom | 14,70 m2 |
| master dressing room | 6,50 m2 |
| master bathroom | 7,80 m2 |
| | |
| PORCHES | 32,40 m2 |
| porch | 9,95 m2 |
| porch living room | 22,45 m2 |
| | |
| FIRST FLOOR | |
| DWELLING | 37,45 m2 |
| hallway | 7,20 m2 |
| bathroom 01 | 5,50 m2 |
| bedroom 01 | 2,00 m2 |
| bedroom 02 | 13,25 m2 |
| office | 9,50 m2 |
| | |
| --- | --- |
| CONSTRUCTED SURFACE | 225,37 m2 |
| DWELLING | 190,10 m2 |
| PORCHES | 35,27 m2 |
| | |
| GROUND FLOOR | |
| dwelling | 127,00 m2 |
| porches | 35,27 m2 |
| | |
| FIRST FLOOR | |
| dwelling | 63,10 m2 |